We all know it; Piaget knows how to make a mean dress watch. Gold case, silvered dial, one of those ultra slim movements there famous for, and you have an instant winner. Piaget is still making these beauties, but has recently also set out a new course to redefine the classic dress watch for the 21st century. Take for example their contribution to this years Only Watch charity auction that was recently held in Monaco. An Altiplano with a PVD coated skeletonized caliber 838P manual wind movement housed in a white gold, which was also PVD coated, showed that a dress watch could maintain it's classical flair when the concept was approached from a more contemporary point of view. A concept that was also appreciated by the bidders of the auction since this Piaget sold at 54.000 Euros, while it was estimated at 25.000 – 35.000 Euros. The person who won this watch at the auction can now be very satisfied by knowing that he bought a landmark piece. The first of a new generation of contemporary dress watches, and a new chapter has just been introduced; the Altiplano Automatic Skeleton.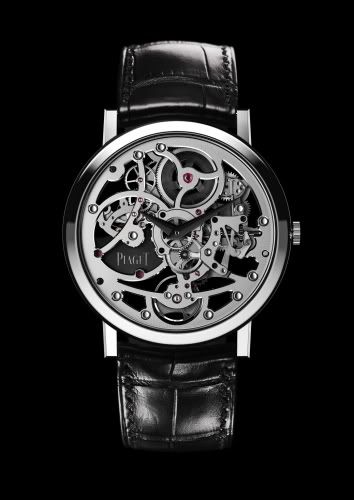 A modern classic; the dress watch reinvented
For the general public this name might not sound very exciting, but for the connoisseurs amongst us it promises great things! They know that for decades the term Altiplano was related to Piaget's legendary line of ultra slim dress watches. This new Altiplano is no exception to this. As a matter of fact, it brings Piaget's tradition of using ultra-slim movements into ultra-slim cases to a new height. With 2.40 mm thickness has Piaget created the world's thinnest automatic skeleton movement, and when cased this will only result in an overall thickness of 5.34 mm, which gives you the world's thinnest automatic skeleton watch.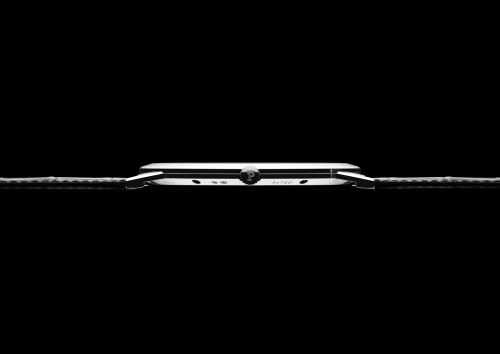 Can you possibly get any thinner?
A true connoisseur will now also immediately understand the challenges that have to be faced when you want to skeletonized an ultra-slim movement like this. Although it generally doesn't count as a complication, creating ultra-slim movements is so much more complex then making a thicker movement. The tolerances become mind blowing narrow, and a certain degree of rigidness must be maintained because otherwise the performance of the movement itself will suffer. Piaget's watchmakers navigated through these treacherous waters successfully but the brand didn't stop there.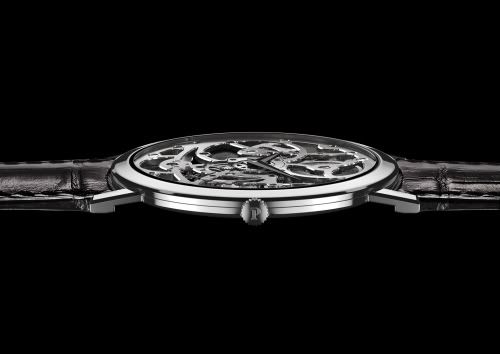 Despite a significant lack of thickness there is still a lot of dimension in the watch
Piaget's design team had to navigate some treacherous waters of their own; How to give a classical legend like the Altiplano a contemporary look without compromising Piaget's brand value's. The answer to this was found in the Altiplano itself. This collection has always been pretty straightforward and practical. The Altiplano started for example out with the 9P manual wind movement where the dial featured painted hour markers simply to keep the profile of the watch as slim as possible. This same train of thought seems to have been used by Piaget's design team to create the Altiplano Automatic Skeleton. Less is more certainly go for this Piaget. They didn't make the mistake of confusing contemporary with trendy and carefully stayed away from large diameters or the use of exotic materials. They continued the elegant yet straightforward case designs of the Altiplano, in this case in 18K white gold, and opted for a diameter of 38mm. A beautiful size that balances looks, wearing comfort and wrist presence in an extraordinary way. It also means that the movement doesn't need a spacer, so what you see is pure and simple all movement!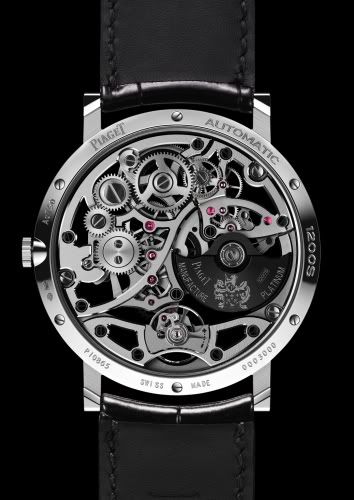 Tempting front and back; notice the beautifully centered balance wheel with its symmetric bridge
Although simple should not be taken too literal. Not only is the movement quite complex to make, also the decorations Piaget went for are not the easiest to accomplish. One could be fouled though, satin-brushed plates and bridges looks deceivably easy to create but the opposite is the case. Even the slightest error will be noticeable and ruin the understated look of this decoration technique. To highlight the shape of the skeleton movement are the sides of the plates and bridges drawn and beveled by hand, thus creating a unique play of light that adds a dimension to the skeleton movement. Such can also be said of the choice for black screws, a black platinum satin-brushed micro rotor and black dauphine hands. The front of the rotor features Piaget's name while the back is decorated with its coat of arms. It makes the watch stands out without being flashy. The overall looks also enable the owner to not only opt for this Piaget when wearing a suit, but also make it an obvious choice when dressing down to a sweater.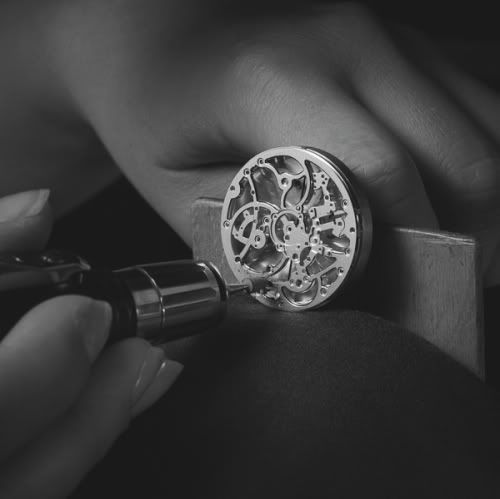 Hand beveled plates and bridges add appeal, dimension and understatement
All together have Piaget's designers and watchmakers really come through in creating a contemporary dress watch that hasn't lost any of classical appeal, but is at the same time pleasantly refreshing without being trendy. That being said, with watches like this Piaget might actually start a new trend, if not for the watchmaking world as a whole then at least for itself, and that is something to most certainly look forward to.